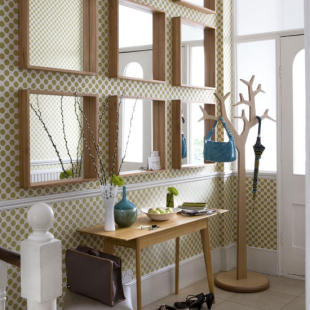 {images via here}
A front entry is the first place where guests get a taste for who you are. I believe this space should be special whether you have a specified area or you have to create one. In the
Domino
book they have a lovely write up with wonderful ideas on making it special. I love what Rita Konig said, "When I added the table and lamp, suddenly my sliver of a hall became a room". I already had the table and now I have the lamp. I must admit it gave the space a whole new feel.
Here
is the before shot in case you were intrigued. This is the new "room"...

With spring approaching the winter hats will be changed out with summer ones. I am hoping to find a fabulous new one for this summer. As for the tricylcle, it has somehow made its into the house and the my little lady loves riding it around while little brother holds on for dear life while riding on the back. It is quite a sight to see.